I know that my BMW 335i is a mechanical object, devoid of personal feelings. Yet I sensed that this extraordinary car shared my excitement at—finally—setting off on another road trip. What else would explain its over-eagerness? A slight push on the accelerator unleashed far more power than I intended, and the E93 urged a faster pace through every corner. Such are companions in adventure.

A long burst of consulting work had resulted in a 6-month absence from my usual tours of scenic and historically interesting places. As a remedy, I decided to see what was left of our Mid-Atlantic blizzard from 2 weeks earlier. With the 335i impatiently straining at the bit, we headed off in the direction of Frederick, Maryland, where I'd (mis)spent most of my youth so many years ago.

It was a typical winter day, cloudy, windy, and freezing cold. It didn't matter: we were in pursuit of adventure!




You never know what you're going to find along the back roads in this area. It's not uncommon to see a moribund boat in someone's field, but how often have they been turned into a playground slide?




Abandoned buildings are also a fairly common sight, and a clue to what life was like back in the day. The millstones in the foreground of this photo reveal that this structure had been a gristmill. Some years ago, nearby Sam's Creek had washed away the other end of the mill, leaving a tangle of mill equipment hanging in mid-air. More recently, the roof collapsed, adding a new layer of debris overtop the old. Sam's Creek Mill was built in about 1875, superseding at least one earlier mill at this location. Its days are numbered, sadly, and I suspect the remaining walls will give way before long. (Photo from 2008 courtesy of Robert T. Kinsey and millpictures.com.)




Sam's Creek divides Frederick County from Carroll County in this part of Maryland. My reason for stopping by was to see how my all-time favorite abandoned mansion was doing. I was pleased to see that it was still standing, despite the best efforts of floods, dismantlers, and Killer Ivy. (In the summer, it is impossible to see the house at all as a result of a dense coating of vines.)




On this day, I decided to take a closer look. I quickly discovered that 3 feet of melting snow, on top of a flood-prone field, creates a muddy, boggy mess. Alternating between the remaining piles of snow and the muddy quagmires in between, I opted for the uphill side of the house and managed to get there. (The things I do for my faithful readers!)




I'd often wondered what the inside of the mansion was like. It's not bad structurally, but much of the interior wood paneling has been pulled off in what looks like an aborted attempt to recycle the old place. Many of the windows are broken, and the front door was wide open, allowing the elements to do further damage. It's a shame, since this was once a luxurious dwelling for a prosperous farmer or mill owner.




After I retraced my steps through the bog, the 335i thought we should continue along Sam's Creek and check in on the McKinstrys. The stream was full of snow runoff and, for some reason, had a pronounced green color.




Not many "Warren truss" bridges have survived, but this one leads across Sam's Creek to McKinstry's Mill. The McKinstry family owned and operated the mill from 1814 to 1915, during which time an industrious community sprang up, with carpenters, coopers, a blacksmith, shoemakers, a post office, and a general store.




Evan McKinstry was a Pennsylvania Quaker who moved to Maryland in 1800. He bought the original 18th-century log mill at this location in 1814 and built "The Homestead" a few years later. It was his home for the rest of his life, and a number of his descendants lived here as well.




Evan's son Samuel built the current massive mill in 1844. Before long it was producing 2,000 barrels of flour a year. As indicated in the historical photo (courtesy of the National Register of Historic Places), farmers would line their wagons up to pass under the second level to unload wheat, corn, and oats, and then receive ground flour, cornmeal, and oatmeal. (They didn't call it "uploading" and "downloading" back then, but they should have!)




As the McKinstrys continued to prosper, Samuel built this handsome brick house for his family…




…and this impressive general store for the community. (The ornate three-storey "bay window" was added later.)




The gristmill closed in 1950, but the store apparently continued in business until at least 1955 when "Gulf Crest" gasoline was introduced. I tried to fill the 335i up—where else could you buy gas for $0.23 per gallon?—but I was not successful.




So far, I was having a great time, but I wasn't exactly making rapid progress toward my hometown of Frederick. But the wintry views along the way were well worth it.




At the top of the hill, I found the McKinstry family, resting quietly in the Sam's Creek Methodist Protestant Churchyard. Samuel and his wife Mary A. are here, along with their children Samuel B. (with the unusual, heart-shaped headstone), Sarah, and Mary M.




James and Mary Clemson built their dream house in 1818, calling it "Locust Hill." Their dairy farm has stayed in the family and remained active ever since. The mansion, gardens, barn, carriage house, dairy, icehouse, and other buildings have been beautifully preserved.




The Clemsons' farm and mansion are now called Hopewell, and the interior of the main house is said to have some of the finest woodwork in the state. These photos are from the Library of Congress. See the small dark ovals on either side of the fireplace? They are glass-covered silhouettes of Mary and James, placed there during construction.




In the distance is a beautiful gazebo. The shrubs in the foreground are part of the "boxwood allee" leading to the main entrance of the house. (I wonder if I'm too old to be adopted into the Clemson-Pearre family?)




Continuing to "mansion hop," I went looking for Hard Lodging. Getting there required traversing a long, muddy back road, but the 335i didn't mind. Before long, we were enjoying sustained, slow-motion power slides and filling the wheel wells with loam-like muck.




Hard Lodging was built in three distinct sections. Mill owner Solomon Shepherd built the first one in 1790, and moved in with his wife Susanna Farquhar. Previously, they had lived with her parents, and Solomon used to walk quite a distance along Pipe Creek to and from the mill. At night, he would carry a flaming torch and use it to drive away the wolves when they attacked. All in a day's work, I guess.




These stone walls are all that's left of the structure next to Hard Lodging—which may have been Solomon's mill and factory or perhaps just a barn.




I'm always pleasantly surprised when I drive through an area and suddenly recognize a place that I'd seen sometime in the past. In this case, it was the Linwood Feed Mill, which was built in about 1866. It incorporated a wooden grain elevator, one of the first in the U.S. Astonishingly, the mill and elevator were still operating as a business as recently as 1996.




Near Linwood, I found yet another large brick mansion—this one in an abandoned state, unfortunately.




Eventually, I made it all the way to Walkersville, which is halfway between Woodsboro and Frederick. What is now Highway 194 used to be the Woodsboro and Frederick Turnpike. There were as many as 13 different turnpikes in and around Frederick, built to accommodate local traffic and the large numbers of families migrating to the west following the French and Indian Wars. This modest little brick house was once a tollhouse for the W & F Turnpike. Tolls were collected here from roughly 1850 through 1910.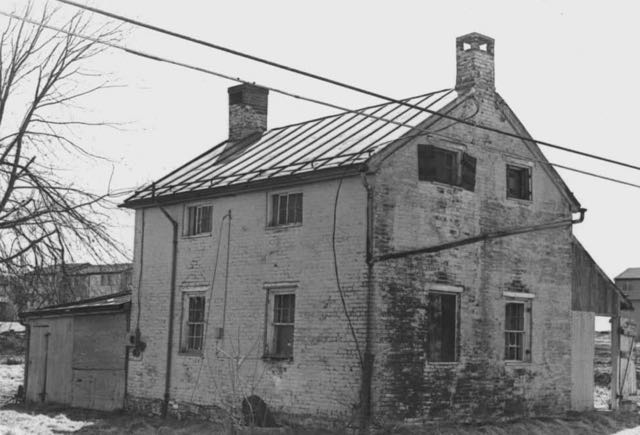 Once I made it to Frederick, I drove around admiring various places and the memories they brought back. The Baltimore & Ohio Railroad used to run directly through the downtown area, as did the Frederick and Pennsylvania Line, starting in 1872. Only 24 years later, however, the F&PL was insolvent and sold at auction for 10 percent of its value. Over the years, it went through nearly a dozen reorganizations and takeovers and eventually sat abandoned from 1980 to 1995. At that time, this little 3-mile section of it became the Walkersville Southern Railroad, which is still running weekend excursion trains—but not in the winter.




The 1880 Spring Bank Farm happens to sit almost exactly at "the end of the line" for the Walkersville Southern Railroad. It was built by George and Eliza Houck, and was sold to Grayson Bowers in 1908. Interestingly, my brother Curt lived and worked on a different farm, owned by a different Grayson Bowers, for a couple of summers during his own (mis)spent youth. (Historical engraving courtesy of the National Register of Historic Places.)




This colorfully decorated VW Jetta caught my attention at a stoplight. I eventually figured out that the sticker just above the VW badge relates to the driver's interest in acupuncture.




Back when I lived in Frederick, Rose Hill Manor was just a stately—and rundown—private residence. I was oblivious to the fact that it had been the retirement home of Thomas Johnson, a member of the Continental Congress, Maryland's first elected governor, and a Justice of the U.S. Supreme Court. Johnson was also a close friend of George Washington and was the person who nominated Washington to be Commander-in-Chief of the Continental Army at the start of the American Revolution. Thomas Johnson lived here with his daughter and son-in-law from the mansion's construction in 1795 until his death in 1819. Today, the mansion and its grounds serve as theRose Hill Manor Park & Children's Museum.




Downtown Frederick has more history per square block than almost anywhere, and it's scenic as well. These are only two of the "clustered spires of Frederick," as described in the opening lines of John Greenleaf Whittier's poem Barbara Frietchie. (Did I mention that in 1943, when President Franklin D. Roosevelt and British Prime Minister Winston Churchill were driving through Frederick on their way to Shangra-La, which later became Camp David, Churchill recited the entire Barbara Frietchie poem by memory?)




Growing up, I had no interest in history. I walked, bicycled, or drove right by this old stone house almost daily and never once wondered who had lived here or what life was like in the 1700s. On my recent visit, I learned that this was "Schifferstadt," the 1758 home built by Elias Brunner. His father, Joseph Brunner, was one of many Germans who immigrated to Pennsylvania in pursuit of religious freedom in the early 1700s. Many of these families relocated to Maryland, where land prices were lower. Schifferstadt may also have served as a refuge for Elias Brunner's relatives during the French and Indian Wars, when attacks on farms west of Frederick became common. The house narrowly escaped demolition in 1972, when plans were underway to build a gas station on the property. It is now open to the public as the Schifferstadt Architectural Museum.




It's not uncommon for any given house to go through many different owners over the years. This one, on East Church Street in Frederick, is a little more out of the ordinary. It was built for Dr. John Baltzell in about 1825, with the small wing on the left serving as his office. Colonel Alexander Hanson bought the Federal-style mansion after the doctor's death and lived here for about 15 years before selling it to John Loats, the first president of the Frederick & Pennsylvania Line railroad. In his will, John established the Loats Female Orphan Asylum of Frederick City, which operated from 1879 to 1958. Since then it has been the home of the Historical Society of Frederick County. I was surprised to learn that many of the children placed at the Loats Orphanage came from broken homes, i.e., where the parents had divorced, and neither could—or would—care for the children. (Photos of John and Callie Loats, and residents of the orphanage, courtesy of the Historical Society of Frederick County.)




Although the orphanage was, by all accounts, a reasonably cheerful and happy place, the staff of the Historical Society have frequently seen a young woman dressed in old-fashioned clothing, all in white, who smiles but says nothing. When they look again, she is gone.

Frederick City Hall is an impressive sight, fountain and all. It started life in 1864 as the Frederick County Courthouse but was outgrown and replaced with a new facility in 1982.




Did you notice the bust and pedestal to the right of the main entrance in the prior photo? Roger Brooke Taney was the Chief Justice of the U.S. Supreme Court from 1836 to his death in 1864. He entered Dickinson College at age 15, graduated, and became a successful lawyer in Frederick. Along the way, he married Anne Key, who was Francis Scott Key's sister, and was elected as Maryland's Attorney General. A supporter of President Andrew Jackson, Taney became U.S. Attorney General, Secretary of War, and Secretary of the Treasury. His nomination to be an Associate Justice of the Supreme Court was blocked by the Senate (hmmm, does that sound familiar?), but a year later he was confirmed as Chief Justice despite ardent opposition from respected Senators Henry Clay, Daniel Webster, and John C. Calhoun.




If not for the infamous

Dred Scott Decision

, Chief Justice Taney would likely have been remembered as an excellent jurist. But this case brought out the worst in both Taney and the Supreme Court, greatly increasing racial tensions in the U.S., and directly contributing to the start of the Civil War.

Dred and Harriet Scott were enslaved African Americans who in 1846 sued for freedom for themselves and their two daughters, Eliza and Lizzie, after having lived in the free state of Illinois and the free territory of Wisconsin. The Scotts had a strong case, based on existing laws and precedents. They initially lost on a technicality in Missouri state court, then won in a retrial, but lost again when the slaveholder appealed and the Missouri Supreme Court overturned 28 years of precedent. In 1857, their case reached the U.S. Supreme Court, with Taney and 6 other Justices holding that, solely because of their race, the Scotts could not be U.S. citizens and therefore had no standing to bring a case before Federal courts. Moreover, the Court decided to declare the 1820 "Missouri Compromise" legislation unconstitutional, thereby allowing slavery in every U.S. territory and prohibiting Congress from regulating slavery.

Taney hoped that this decision would quell the rancor and deep divisions associated with slavery by making the law clear, but instead tensions increased dramatically. His majority opinion stated that "[African Americans] had for more than a century before been regarded as beings of an inferior order, and altogether unfit to associate with the white race, either in social or political relations, and so far unfit that they had no rights which the white man was bound to respect." Dissenting Justice Benjamin Robbins Curtis forcefully noted the errors and inconsistencies in the majority opinion and resigned from the Court in protest—the only Justice ever to so resign. Senator Charles Sumner of Massachusetts wrote "I speak what cannot be denied when I declare that the opinion of the Chief Justice in the case of Dred Scott was more thoroughly abominable than anything of the kind in the history of courts."

A Republican lawyer from Illinois named Abraham Lincoln was incensed by the

Dred Scott Decision

and was highly critical of Chief Justice Taney. Ironically, when Lincoln was elected President in 1860, it was Taney who performed the swearing-in ceremony.

As for Dred, Harriet, and their daughters, they were given their freedom shortly after the Supreme Court decision. Dred Scott went to work in a St. Louis hotel but died of tuberculosis just a year later. Harriet lived as a free woman for another 18 years, passing away at age 56. Dred and Harriet Scott's descendants still live in the St. Louis area, and their great-great-granddaughter Lynne Jackson founded [url=thedredscottfoundation.org]The Dred Scott Foundation[/url] in 2006.




With thoughts of Roger Brooke Taney and Dred Scott swirling in my mind, I found myself passing by the old Tivoli Theatre (now the Weinberg Center for the Arts). It was the setting for many of my high school dates, and I fondly remembered watching such classics as

The Sound of Music, A Patch of Blue, and Cool Hand Luke

here.




I was pleasantly surprised to see that the Tivoli's classic box office was still in place. I remembered walking by this booth in 1961 as my parents, brother Curt, and I were leaving the theatre after having seen

West Side Story

. Curt and I were thrilled by the violent story of New York City gangs, and we were sure that our parents were shocked and dismayed by it—so, in our best innocent voices, we asked them "How did you enjoy the movie?" Our mom replied, predictably, that she didn't like it—too violent. Our dad, however, responded by saying, "I thought it was magnificent: a modern retelling of Shakespeare's

Romeo and Juliet

." Curt and I just looked dumbfounded at each other. How would our

father

ever know something like

that

?? It was one of those rare moments when you actually begin to gain respect for a parent!




Of course, Curt and I promptly set about making rudimentary switchblade knives and deciding whether we were Sharks or Jets…

Another pleasant surprise was my realization that the theatre was

open

. The staff invited me to look around as much as I liked, and then the memories really started flooding in. This photo shows the beautifully restored lobby, including the steps up to the balcony. In the late 1950s, I'd come to the Tivoli to see some movie or another with my best elementary school friend Eric and his mother, Dr. Bernice Wedum. I'd never even noticed the steps before, so I was surprised when Dr. Wedum marched determinedly to the staircase and began climbing. When I asked where we were going, she replied, "I always sit in the balcony, to protest segregation." It's one of my first memories of coming face to face with racial injustice. Before this movie, I had no idea that African Americans were required to sit in the balcony at this theatre or any of the others in Frederick. In retrospect, even years after the

Brown v. Board of Education

Supreme Court decision in 1954, Frederick's schools remained segregated.




The interior of the theatre was extremely dark, but I managed this low-light shot showing the screen, marble walls, velvet seats, and formal chandeliers. In 1976, floodwaters from nearby Carroll Creek completely covered the seats, causing the Tivoli's priceless old Wurlitzer organ to float up and onto the stage. (It had been used to accompany silent films in the 1920s; the theatre and organ were later restored.)




This view also reminded me of a time in 1965, when I drove my best high school friend Lew, and his date Sharon, to see

Thunderball

. It was their first date, and the intention was to have a double date—but I failed to persuade anyone to accompany me, so it was just the three of us. We sat far down in the front of the Tivoli, on the right side of the aisle. As the opening titles were shown, with the beautiful Bond babes silhouetted in the nude, it was difficult not to notice certain anatomical details on screen. Lew leaned across Sharon to ask me, in a happy voice, "Now aren't you glad we sat so close?" Against all odds, Sharon went out with him a second time—and they've been married now for almost 44 years!

With time marching on, I located the old Baltimore & Ohio Railroad station. I recognized the building, although I'd had no idea what it had been when I was growing up.




President Abraham Lincoln briefly addressed a large crowd here on October 4, 1862 as he was passing through Frederick following his meeting with General George McClellan at Antietam. His words then would seem entirely apt today. (Historical engraving courtesy of

Harper's Weekly

.)


May our children, and our children's children, for a thousand generations, continue to enjoy the benefits conferred upon us by a united country, and have cause yet to rejoice under those glorious institutions bequeathed us by Washington and his compeers.



I did remember the 1778 Revolutionary War barracks. Over the years, these barracks served as a prison for 1,500 Hessian mercenaries captured during the American Revolution; a staging center for the Lewis and Clark Expedition; a silk worm cocoonery; United States Army General Hospital #1 during the Civil War; and (starting in 1868) the Maryland School for the Deaf.




This cannon barrel was originally 8½ feet long. It was part of the barracks' munitions in 1783 and was subsequently used to signal Independence Day for many years. In November 1844, to celebrate James K. Polk's Presidential win over Henry Clay, the "18-pounder" was overloaded and blew up spectacularly, much to the detriment of gunner Upton Duvall. In an early example of recycling, this remaining section of the barrel was imbedded at 4th and Bentz streets and used to protect a fire hydrant. In 1951 it was unimbedded and moved back to the barracks, where it sat unnoticed under a porch for another 50+ years. Not long ago, it was retrieved and given a place of prominence in front of the barracks that it once defended.




By now, my 335i was impatient at having to dodder around downtown Frederick or sit parked while I wandered about, photographing and reminiscing. Once restarted, the car practically flung me out of town, past the Mt. Olivet Cemetery where all the luminaries mentioned so far are buried, and directly to the grounds of Arcadia. This 45-room mansion was built in about 1780, with substantial additions in the late 1800s. It has an eclectic mix of Palladian, Victorian, Queen Anne, and other styles, but it is nonetheless an impressive sight. During the Civil War, Generals Pendleton, Meade, and Early all used Arcadia as their headquarters at one time or another.




I spotted this brick building behind Arcadia, on top of the ridge. Experts disagree as to whether this was a barn or a carriage house—I'll vote for the latter—but there is no question that it is in the process of becoming the Ballenger Creek Baptist Church. Services are currently being held in the mansion, while the carriage house is modified to accommodate as many as 300 worshippers.




With the temperature having maxed out at 37 degrees and now starting to drop, it was time to put the top down and finish out the rest of my trip in style. Despite shivering so badly that reading the GPS was difficult, I still found my way to l'Hermitage—one of the best-preserved 18th century farms in Maryland, but also the setting of one of the darkest chapters in Frederick County history.




The cannon shown in the prior photo is a monument to the Civil War Battle of the Monocacy that took place at the farm and surrounding areas on July 9, 1864. In a last-ditch effort to prevent the South from losing the war, Confederate General Jubal Early invaded Maryland, organized his troops at Arcadia, and set off to capture Washington, DC in hopes of forcing a negotiated end to the war. Union troops tried to defeat Early's army at the Battle of the Monocacy, but failed to do so. They did, however, delay the Confederates long enough for reinforcements to reach Washington. Although Gen. Early managed to attack the northern-most of the forts encircling the capital, he had to fall back after one day's engagement. (See The Civil War, Slavery, and Abraham Lincoln: A Z4 Tour of Washington, DC & Maryland for photos from Fort Stevens and the nearby Lincoln Summer Cottage.)

The exterior of the main l'Hermitage farmhouse is in relatively good condition, although much of the interior is braced and in need of extensive renovation. The house and other surviving structures were built in the 1790s.




The walls of the unusual, French-style stone barn at l'Hermitage have remained standing for 225 years despite the forces of time—not to mention the damage from shelling that occurred during the 1864 battle. A new roof was built after the National Park Service acquired the property and added it to the Monocacy National Battlefield. For reasons that have been lost to history, a large window or doorway in the west end of the barn was filled in at some point but has since eroded back open.




This house was a secondary dwelling for the farm. Just beyond were the wooden slave quarters, the foundations of which have been identified through an archaeological dig in recent years.




Slavery was common in Maryland in the 1700s and 1800s, and Frederick County was no exception. But the scope of slavery at l'Hermitage and the abuse of the plantation's slave population were far beyond anything experienced elsewhere in this region. The aristocratic Vincendière family had fled France during the French Revolution. They settled in the French island colony of Saint-Domingue and built a prosperous, slave-based farming operation. The brutal mistreatment of slaves there, by both white and free black plantation owners, led to a massive slave rebellion in 1791. Fearing for their lives, landowners fled the island, which soon established a new identity as the nation of Haiti.

The Vincendières ended up in Frederick County and built l'Hermitage. Victoire Pauline Marie Gabrielle de la Vincendière was only 16 when she arrived in Maryland, but she soon became the head of the family—and set about replicating the merciless, slave-based plantation operations that had been common in Saint-Domingue. From 1800 to her sale of l'Hermitage in 1827, numerous charges were brought against her and her family for gross mistreatment of the 90 slaves living and working there, including beatings and other severe physical abuse and the withholding of food and shelter. A Polish diplomat who passed by l'Hermitage in 1798 wrote, "One can see on the home farm instruments of torture, stocks, wooden horses, whips, etc."

After selling the plantation and most of her family's slaves, Victoire retired to downtown Frederick and lived out the rest of her life there. Most accounts indicate that she granted freedom to her last 3 slaves through her will in 1854. However, other records show that she made a bequest to her nephew Enoch Louis Lowe of a slave named Augustus. Lowe, incidentally, had been born and raised at l'Hermitage, and he served as Governor of Maryland in 1851-1854. Although he was a bright young reformer in many respects, he nonetheless supported the Confederacy and urged that Maryland secede from the Union. He granted freedom to Augustus in 1857.

With a last look at the Vincendières' plantation house, it was time to close out my trip by finding the most magnificent mansion of all. Fortunately, it was only just across the Monocacy River, so my shivering time would be limited.




John McPherson, Jr. built a gristmill near the Monocacy in 1830, using water power to grind 60 barrels of flour a day. It had a large internal water wheel and was a very successful operation. Frederick businessman James H. Gambrill bought the mill in 1856 and made numerous improvements. It operated as a "merchant mill," where Gambrill bought the grain directly from the farmers and sold the flour himself. ("Custom mills," such as McKinstry's, processed the flour on behalf of the farmers, who then used it or sold it themselves.) During the Civil War, "Araby Mill" served as a Union post office, and a number of soldiers from the Battle of the Monocacy are said to be buried in the surrounding ground. After the mill closed in 1897, its upper storey and all the machinery were removed and the building converted to a residence. (Photo courtesy of the National Park Service.)




The converted mill is still in place, although it is now used as offices for the National Park Service, and few would think that it was once a mill at all. But Araby Mill was not why I came here. By 1872, James Gambrill's milling business was apparently so profitable that he decided to build a stunning, Second-Empire dwelling for his growing family. The result was Edgewood (now known as Gambrill House)—a three-storey mansion, with a tower, mansard roof, crystal chandeliers, Italian-marble fireplaces, gas lamps, a ballroom, stage, indoor bathrooms with hot and cold running water, and a full basement with wine cellar.




I've never wanted to live in a particular house as badly as I would like to live in this one! Back in 1981, however, the NPS beat me to it, and it's now the headquarters of the Historic Preservation Training Center. Gambrill House remains one of the largest single-family homes ever built in western Maryland.




All good things come to an end, and in 1894 James' wife Antoinette passed away. By 1897, competition from advanced roller mills in the Midwest had greatly diminished income from the Araby Mill, forcing James to sell his properties. He lived until 1932, passing away quietly the day after his 102nd birthday. His magnificent house continues to stand proudly on a hill overlooking the mill site, and I hope it remains there for at least another 144 years. (Photos of Gambrill House and James and Antoinette Gambrill and their 9 children courtesy of the National Park Service.)




My trip ended with the setting sun, but it had been a full day of exploration, discovery, fond memories, and history—both bright and dark. And the faithful 335i, with ten times the horsepower of the entire Araby Mill, found its way home in record time, still urging me to go faster at every turn.

Rick F.