West Virginia is justifiably famous for its mountains, rivers, and (among driving enthusiasts) a huge selection of superb mountain roads. My goal in late April was to sample more of these roads in my trusty BMW 335i—and to see what was left of the coal mining industry that used to predominate in the southern part of the state. In addition, I was pretty sure that I could find a good story or two among the forgotten towns and beautiful rural scenery. In the process, I went far underground twice (although the BMW stayed topside and out of trouble, for once!)
A quick jaunt of 300 miles brought me to Lewisburg, WV, where I would spend the night in preparation for an early start on my tour. I arrived just in time to visit the nearby
Lost World Caverns
before they closed for the day. I was met by this not-altogether-friendly-looking, 400-pound llama. As best I could tell, he serves as the night watchman.
Many years ago, a farmer discovered a large and very deep hole in the ground on his property. He decided it was the perfect place to dump various items of farm detritus, including dead cattle and such. (He noted that they took a
long
time to fall to the bottom of the pit…) The dumping continued for years without ever filling the hole, even slightly. It wasn't until 1942 that a couple of enterprising Virginia Tech students decided to explore the opening, discovering the cavern in the process.
After a
lot
of clean-up, the caverns opened to the public in 1973. Although there are more than a mile of interconnected passageways, the regular tour takes you through a single huge chamber, measuring about 1,000 feet by 300 feet, and as much as 120 feet high in places. They give you a laminated information sheet and a flashlight (in case the power goes out) and send you on your way. Late on a Sunday afternoon, I was the only person in the whole place. ("Monophobia": The fear of being alone. I now know that I don't have it.)
In this first photo, notice the big limestone blocks covering the floor of the cavern. They used to be in its
ceiling
… ("Felsbrocken·von·oben·ophobia": Fear of falling boulders. No further comment!)
This is the "Ice Cream Sundae" wall. Lost World had every sort of formation, including arguably the largest stalagmite in the world.
My favorite formation was the "Bridal Veil," which was just beautiful. It's estimated to be 50 million years old.
The "War Club" is 28 feet high and features in the Guiness Book of World Records. In 1971, a fellow named Bob Addis sat on top of this stalagmite for just shy of 16 days, and his record still stands. All in all, I absolutely loved this cavern. With a lot of rain during the prior day, I could hear a vast quantity of water rushing by
underneath
one section of the path through the cave. When I wasn't expecting more of the ceiling to collapse, I was looking for floodwaters rising from below. ("Antlophobia.")
Oh, I forgot to mention that "Bat Boy" was discovered here in 1992. He had lived here all his life, raised by the cave bats and eating quantities of insects for sustenance. Or so reported the
Weekly World News
. For the record, it's not clear that the
WWN
has ever published a true story. Too bad; I really liked this one.
Getting There Is Half the Fun (Unless You Have "Phasmophobia")
That's "fear of ghosts."
My tour of coal country started and ended in Rainelle, WV, following a route from
RoadRunner Magazine
. Of course, there were a few things to see on the way to Rainelle, including the Tuckwiller Tavern, built by David and Sallie Tuckwiller in 1828. It sits along the original James River and Kanawha Turnpike and continued in operation until the railroads arrived in 1872. The support beams in the basement are made of entire oak trees, bark and all.
Next up was Morlunda Mansion, originally called Mountain View and now the
Swift Level Farn
. During the French and Indian Wars, Samuel McClung I became the first settler in Greenbrier County to be wounded in an Indian attack. He narrowly escaped death by leaping across a deep chasm, which his pursuers did not dare to attempt. His son, Samuel McClung II built Morlunda in 1827, and the farm has been used to raise thoroughbred horses ever since. It is also a bed & breakfast now, in case you'd like to admire its hand-carved walnut interior furnishings.
This early in the morning, the temperature was only in the high 30s, so the hardtop was still in place. That status didn't last for long, however, since it turned out to be a beautiful day.
The Herns Mill Covered Bridge has been carrying horse-drawn and internal-combustion traffic across Millican Creek since 1884. I was thrilled to see an old covered bridge that did
not
have a host of warning markers, height-limit poles, "don't jump off the bridge" signs, and so forth. It's been reinforced but is otherwise identical to its original construction. The view from the bridge to the creek below was also quite pleasant.
Everywhere you look in West Virginia, you're bound to find something interesting—such as this old barn with faded white "Chew Mail Pouch Tobacco" lettering and a white horse to match.
Farther along the original James River and Kanawha Turnpike, the Old Stone Tavern served stagecoach passengers for many decades. It was built by the Tyree family in 1824 and is now a private home, with the original front porch having been enclosed following a fire in 1996. Back in the day, the tavern's guests included Andrew Jackson, Henry Clay, and Civil War soldiers Rutherford B. Hayes and William McKinley. History test: which of those four fellows did
not
serve as President of the United States? (Unless otherwise noted, historical photos are courtesy of the National Registry of Historic Places, the Library of Congress, or Wikipedia.)
The 1849 Soule Chapel Methodist Church would be interesting enough in its own right, even without the extraordinary story resting in its cemetery.
On January 23, 1897, 21-year-old Zona Heaster Shue was found dead in her living room. The local physician, Dr. George Knapp, conducted a cursory examination and determined that Mrs. Shue's death was due to an "everlasting faint." He later amended his finding to include "and childbirth." Her husband of 3 months, Edward "Trout" Shue, had her quickly buried in her best, high-necked dress. The matter was laid to rest, so to speak.
One month later, Zona's mother woke up in the middle of the night to find her deceased daughter standing at her bedside. Zona's ghost declared, "I was murdered, Momma—Trout strangled me!" She went on to describe that the force of being strangled caused her neck to break. For another 3 nights, the strange experience recurred, with Zona repeating that she had been murdered.
Shaken, and now convinced that the experience was no dream, Zona's mother went to the local sheriff urging him to investigate her daughter's death as a murder, committed by Trout Shue. The sheriff reluctantly agreed to reopen the case, and Zona's body was exhumed—and found to have a crushed windpipe and a broken neck. Trout Shue was charged with murder, convicted by a jury, and sentenced to life in prison. (It is not known whether he subsequently suffered from "Novercaphobia": Fear of your mother-in-law.) The trial of Trout Shue is the only known case in the U.S. where a ghost's testimony helped identify and convict a murderer.
In the Heart of Coal Country
Coal was formed when forests and other plant life became covered by wet soil. Over time, as additional layers built up, the vegetation was carbonized by high pressure and heat, ultimately becoming coal. Coal ranges from very soft peat, to medium-hardness bituminous, to hard anthracite. Graphite is actually the hardest form of coal, although it doesn't burn for beans. I was surprised to learn that coal seams are typically only 3 to 6 feet high, and usually trapped between layers of hard rock.
By the mid-1800s, the transition from wood to coal for producing heat and energy led to a huge increase in demand that outstripped Pennsylvania's coal production capabilities. Bituminous coal mines opened throughout West Virginia, and the Chesapeake & Ohio and Norfolk & Western Railroads built new lines to carry workers and supplies to the remote and otherwise-inaccessible mining areas and to carry the coal back out. By the Civil War, coal production in West Virginia was about 500,000 tons per year. Output grew rapidly thereafter, and reached 150,000,000 tons annually during World War II. Somewhat surprisingly, WV production fluctuated around this level for the next 60 years (but has dropped 25 percent following tighter environmental regulations issued by the Obama Administration). (Historical photos courtesy of the
Library of Congress
and
Mining Artifacts and History
, respectively.)
State Highway 20 meanders through many scenic areas before reaching the New River—at which point, both the Scenery and Highway Fun Quotients go off the scale. This old cabin hugs the bank of Mill Creek, with modern-day Interstate 64 traversing the hillside beyond. (That steep bank, incidentally, is a typical West Virginia "back yard." This state is nothing if not vertical.)
I'd seen Sandstone Falls on the New River on a trip in 2010 (see
Almost Heaven, West Virginia
). It is a majestic view, from 600 feet above the river. At river level, it's even more impressive.
Highway 20 continues to follow the New River all the way to Hinton and the Bluestone Dam. This is a view of Brooks Island.
Today's CSX Railroad grew out of the C&O, and 2-mile-long coal trains are still a common sight along the river. Not all of yesterday's railroad and coal equipment is still in active use, however. I wasn't sure what this structure had been, so I asked a very nice older woman who was out walking her dog. With complete sincerity, she opined that it had been an airport control tower… Back home, I learned that it was the "new" coal loading station for the steam locomotives at Hinton's large railroad yard. It was built in 1929, had a capacity of 800 tons, and could load 8 engines simultaneously with a crew of only 3 workers. It became obsolete with the advent of diesel trains in the early 1950s.
It was challenging to get a good photo of the Hinton Railroad Station because someone had parked a long line of coal hoppers in front of the building. The station is still in active use, I believe, although it currently appears to be undergoing renovation.
This water tank is another leftover from the steam years. Note the brick paving on the road.
The Bluestone Dam was built as part of a flood-control project. Work started on the dam in 1941 but could not be completed until after World War II. The dam is 125 feet high and is being raised another 8 feet after a finding that the dam could not withstand maximum flood pressures. The prior days' rain had produced a torrential flow through the dam, so I waded out a little ways to get this photo for you all.
Okay, maybe I
walked
a little ways out onto a fishing pier for this purpose… To quote Jonathan Winters, "I get to believin' my own stuff sometimes!" The residents of Hinton are no doubt relieved that the dam is being strengthened—although the project started in 2004 and is still a long ways from completion. ("Aquaphobia.")
Whenever you park your valuable BMW, you should always endeavor to ensure its safety from fires, floods, vandalism, or—in this case—frequent falling objects. Yes, that stone block had recently come out of the cliff on the other side of the road. It easily weighed 300 pounds! (As for "Felsbrocken·von·oben·ophobia," it really should be an actual word.)
Native Americans used to camp alongside Pipestem Falls. They, and the European settlers who followed, valued the local Spiraea alba plants; their hollow stems made excellent pipestems for smoking. The waterfall drops about 30 feet, and a short trail leads to an upper section that is also quite scenic.
Much of the tiny hamlet of Pipestem had a slightly abandoned look about it.
Bluefield, WV was settled by the Davidson and Bailey families in about 1780. Along with a church, homes, and a store, they built a fort to fend off the frequent attacks by Shawnee Indians who were rather disgruntled at having their lands stolen. By 1787, coal had been discovered beneath Bluefield. It would prove to be the largest and richest source of bituminous coal in the world. The "Pocahontas Seams" prompted the construction of hundreds of mines in this area and the arrival of the Norfolk & Western Railroad. N&W built a mammoth rail yard here, much of which still remains in use. At the time of my visit, only one coal train rumbled through—in marked contrast to the early-to-mid 1900s, when about 40 percent of the entire
country's
coal production passed through Bluefield. During World War II, Adoph Hitler considered Bluefield to be so important that his commanders drew up plans to bomb the city and destroy its rail yard. (Historical photos courtesy of
Living in Bluefield
and the
Norfolk & Western Historical Society
, respectively.)
Following the Civil War, the mining and railroad industries attracted a large number of African Americans to West Virginia, looking for better jobs and greater opportunities—and finding equal pay to white miners in the process. Bluefield State College became the first institution of higher learning in this area in 1895, and it is one of only two historically black colleges in West Virginia. The Alpha Phi Alpha Fraternity purchased this mansion in 1962, and it became the center of social life for the school's black students and prominent guests from around the country. Duke Ellington gave a private performance here for the fraternity in 1966. Today, with black enrollment representing only about 10-15 percent of the school's total, Alpha House is no longer an active residence for fraternity members. Nonetheless, the local chapter has continued to keep the house and grounds in very good condition.
On the other side of the tracks, both metaphorically and geographically, Country Club Hill has more mansions per block than almost anywhere. I particularly liked this Spanish Revival example, which was designed by noted architect Alex Mahood.
This Neoclassical Revival mansion, also by Mahood, was similarly impressive.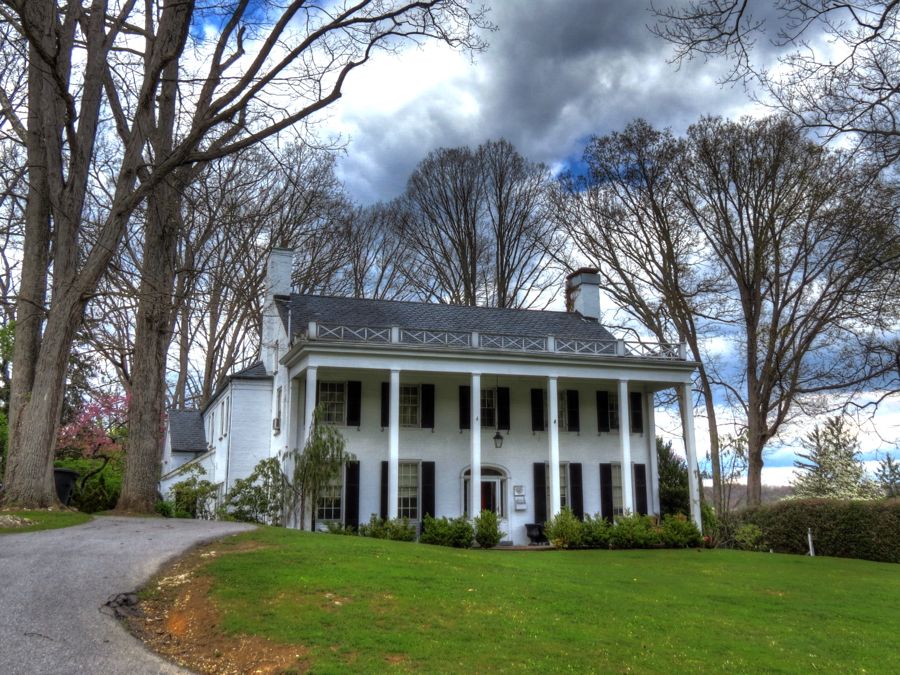 A final note on Bluefield is that it was the birthplace of John F. Nash, Jr., the brilliant mathematician who was portrayed by Russell Crowe in the film "A Beautiful Mind." He was born in 1928 when his father was working here as an electrical engineer for the Appalachian Electric Power Company. Sadly, he and his wife Alicia died just a few days ago when the taxi they were riding in lost control on the New Jersey Turnpike. They were returning home after John had received the Abel Prize in Norway. A tragic ending to
a most unusual life
.
In the Land of Millionaires
Leaving town on Highway 52, I soon found Pinnacle Rock towering above the surrounding mountains. Much like Seneca Rocks, eons of erosion have worn away the surrounding stone and soil, leaving this dramatic sandstone peak.
Naturally I had to try to reach its pinnacle, which is 3,100 feet above sea level. I came close but stopped short of crawling along this narrow ridge to climb the final outcropping. (I may have neglected to mention that a well-defined, 0.7-mile trail, complete with handrails, brought me to this vantage point.)
I stopped to fill up at this service station outside of Bramwell but discovered that they didn't have any premium. Or any gas for that matter, or even gas pumps. Nonetheless, the office still has a treasure trove of old junk, uh, I mean valuable historic artifacts.
Bramwell was known as the "Millionaires' Town" in the late 1800s, with more millionaires per capita than any other community in the U.S. As I approached, the view suggested I was in for a treat. Bramwell is surrounded on three sides by the Bluestone River, and the prominent building in the middle of this photo was the Edward Cooper House; his father, Englishman John Cooper, started the first West Virginia company to mine the Pocahontas Seam in 1884. (John Cooper photo courtesy of
Historic Bramwell, WV
.)
The town's railroad station is a replica of the original, which, along with most of the Main Street buildings, was destroyed by a fire in 1910. In its prime, 14 Norfolk & Western trains would stop each day at the station. Today it serves as a visitor center and museum. Although I arrived just after closing time, the director welcomed me inside and provided a wealth of information about Bramwell and the surrounding area. Much appreciated!
Behind the station, an old dining car and other rolling stock provide a sense of what traveling by rail used to be like. (My earliest memory is of a train trip with my mother, to her father's funeral, when I was 3 years old. Yes, a steam locomotive pulled us from West Virginia to Chicago.)
After the 1910 fire, the downtown section of Bramwell was rebuilt and prospered for another 50 years.
Henry Wade, the Bank of Bramwell's janitor, would carry each day's cash and checks in a wheelbarrow up Main Street to the train station. The bank was highly successful from its start in 1889 until being done in by the Great Depression in 1933. Remarkably, the bank reopened in 2007, with its modern computer systems cleverly hidden within the classical furnishings. I'm not sure if the bank is still a bank or not—but it recently hosted a steampunk wedding… (That's the bride on the far left and the groom on the far right. Photos courtesy of the
Bank of Bramwell on Facebook
.)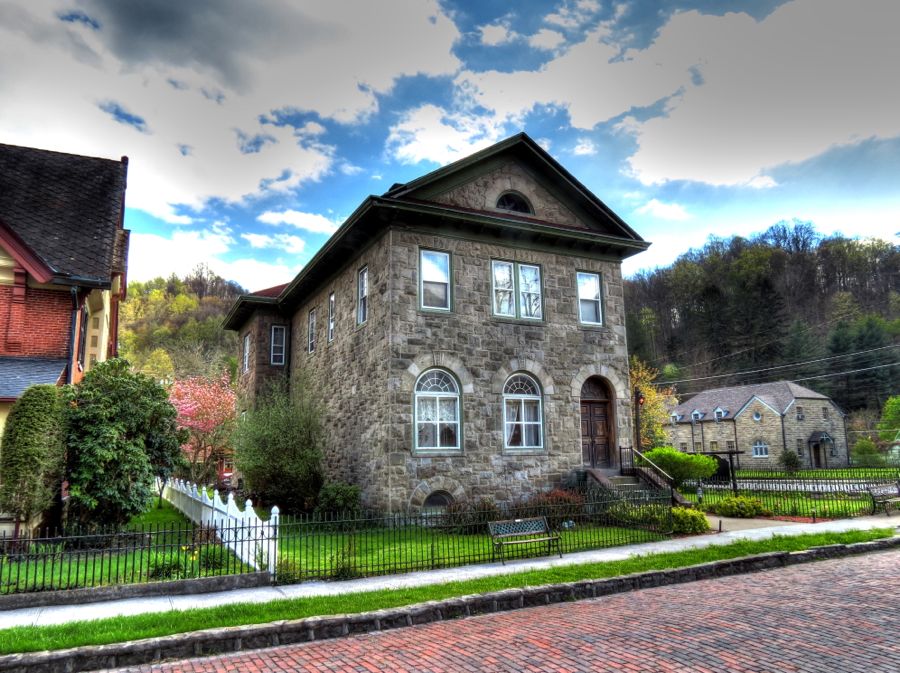 Jairus Collins was one of the coal mine owners living in Bramwell. He built this charming house in 1903, complete with a tiny balcony on the tower portion.
This winsome pooch was dutifully guarding the Hewitt House (built by another coal mine owner in 1914). What she really wanted was to be patted and talked to.
This old bridge is clinging to life across the Bluestone River. Hey, if it was good enough for 1915, it's good enough for now—as long as you keep on the steel tracks…
On the other side of the river, it's apparent that not all of Bramwell's residents were millionaires.
Outside of town, the Norfolk & Western used to cross the river on this bridge. Although this branch of the railroad (which later became today's Norfolk Southern) is defunct, most of its tracks and bridges are still in place, just waiting for historical tourists.
To Have and Have Not
Pocahontas coal was highly prized, in large part because it would burn with almost no smoke or ash. This coal fueled all of the naval ships of both the U.S. and Great Britain in World Wars I and II; it helped a lot when your enemy could not see smoke from your ships beyond the horizon, while you could see theirs. I detoured just across the state line to visit Pocahontas, Virginia, once one of the premier mining towns in the area. Parts of the town were still doing well, including St. Elizabeth's Church and this quaint-looking downtown section along Laurel Fork.
Sadly, however, most of the town was well along its way to oblivion.
Virtually every house on Church Street had either burned or collapsed. In this photo, believe it or not, I held the camera exactly level: the faithful 335i is pointing downhill on the incredibly steep street (with its handbrake pulled on to within an inch of its life!), while the blue house is gently collapsing in the uphill direction. I measured this as a 36-percent grade—probably the steepest road I've ever been on.
All in all, Pocahontas was a remarkable place, although rather depressing. It was a common story: When the big mines began emptying the coalfields, and oil could meet consumer needs for heating more conveniently, the demand for coal plummeted. What demand continued could increasingly be met with far fewer workers, thanks to automated "continuous mining" machines and other productivity-enhancing systems. Mining employment in West Virginia fell by two-thirds, from 125,669 in 1948 to 41,573 in 1968. With no other jobs to turn to, families left the State in droves—and towns like Pocahontas began to collapse, literally and figuratively.
Another such town was Switchback, WV. The Elkhorn High School in Switchback was highly regarded from its start in about 1922, but declining enrollment forced its closure in 1953, with its students transferred to Northfork High. With school integration in 1966, it reopened as a junior high and converted later to Switchback Elementary School. In the historical photo, the building on the left housed a swimming pool below and a gymnasium above, while classrooms were in the building on the right. Over time, the upstairs gymnasium became more and more dilapidated, and the school closed in 2004—not long before the ceiling and gymnasium collapsed into what had been the indoor swimming pool. (Note the bleacher seats in the upper left of the interior photo below.)
This is the entrance and exit for the town of Switchback. It's deceptively narrow next to the stream; the 335i had maybe one foot to either side as I drove through!
Switchback has very few residents these days. I saw only three people as I drove through, all of whom gave me a friendly wave. I was looking for the old Pocahontas Fuel Company Store, if it still existed—and I discovered that it doesn't.
On the other hand, the Switchback Memorial Baptist Church is still clinging perilously to its hillside. It closed many years ago; sometime later its basement was used for activities that were "against the will of God," as described by the church caretaker. She also noted that it's common to find rattlesnakes throughout the church.
A Miners' Clubhouse and the Sound of a Tornado
After almost 12 hours and 177 miles of exploring, I arrived at my stop for the night: the
Elkhorn Inn
, which was originally the Empire Coal & Coke Company "miners' clubhouse." It provided entertainment, food, and overnight accommodations for visitors, as well as the paymaster's office where miners received their earnings. (Historical photo courtesy of
Virginia Tech Special Collections Online
.)
The 1922 clubhouse served many other purposes after the coal company's demise—and it survived major floods in 2001 and 2002, unlike the 30 houses on either side. "Chef Dan" and Elisse Clark put in a bid on the structure and were a bit shocked to suddenly find themselves the new owners. Dan completely renovated the clubhouse, Elisse added art and other gallery features, and the couple opened the inn in 2003. This is the second-floor guest lounge. My room was furnished in 1930s style, complete with a clawfoot bathtub. It was a great way to experience turn-of-the-(prior)-century accommodations, and I very much enjoyed my stay.
I had dinner at the inn that night, along with a railfan guest from Philadelphia—and I must say that Chef Dan did an outstanding job from the garden salad with WV ramp dressing, to the entrée of poached salmon with Alfredo-Dill sauce, to the delicate flan dessert. After dinner, we traded stories with Dan for a good 2 hours. As I was going to bed, I heard a growing sound and thought "My gosh, a train must be approaching, because it sounds exactly like a tornado!"
Railfan & Railroad Magazine
didn't call this inn "the best legal train-watching location in the USA" for nothing: the Norfolk Southern tracks are immediately across Highway 52, and coal and other trains were a regular feature. The larger coal trains went up the steep grade being pulled by two or even three diesel locomotives and pushed by one or two helpers. The helper teams would periodically come back down the mountain alone, to pick up the next train. (The railfan guest explained that if the "pusher" engines at the back moved up front and became additional "pullers," then the total force on the couplings would be too great and they would break. "Siderodromophobia": Fear of train travel.)
With that, it was time for a good night's sleep.